The star of Rufus Wainwright's Adelaide Festival opera talks us through the highs and the lows of life as a Prima Donna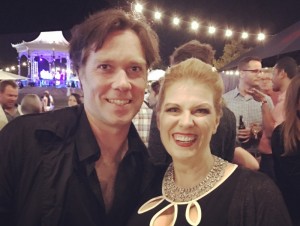 Tuesday March 14
: I'm on a plane with the score for the opera that has lived in my voice and heart for months, and I'm excited and a tad terrified that it's about to come to life. Whilst rehearsing the
Ring
Cycle, Neil Armfield snuck up to me, slipped a score under my arm, and whispered: "Have a look at this and see if you could sing it." The title:
Prima Donna
. Three characters: Prima Donna, Maid, André. I immediately SMS-ed Neil: "Am I the maid?" (mezzos assume!), but Prima Donna it was! I screwed my courage to the sticking place and I accepted.
Wednesday 15th:
10am. First piano rehearsal with the cast (me, Andrew Goodwin, Eva Kong) conductor (Guy Simpson) and Rufus. Deep breaths. Singing in front of the composer. Singing an extraordinary, difficult score. Syncopations within shifting time signatures. In French. Which is also syncopated. The world seemed to stop when Rufus walked in. Reserved and charismatic, he was incredibly generous and complimentary, and we all adored him immediately.
Thursday 16th:
Full day of orchestrals. The Adelaide Symphony Orchestra played exquisitely under Guy's talented baton. We sang our hearts out and Rufus was there every minute, sitting quietly in the corner, taking notes, shaping phrases, tweaking tempi, encouraging everyone and bringing characters to vivid life. He was rehearsing his Judy show (which constituted
the second half of the evening's programme) as well, so he and Guy must have been running on caffeine and inspiration by the end!
Friday 17th:
Stage orchestrals. An insanely fast turnaround for such a difficult show to have only two days of music calls and then suddenly hit the stage. We sang the whole show from memory, so singers could be found in quiet corners repeating difficult phrases, counting out loud (those intricate rhythms!) and cursing their inability to syncopate French within triplets within 7/4 bars (or maybe that was just me). The show ran remarkably smoothly, and all that remained was for Neil to don his directorial hat to 'sexy up' my duet with Andrew. We initially sang it 'concert style', but Rufus was keen for more physical interaction, so we created moves that felt natural and beautiful. Neil is a master of portraying human nature and his suggestion of touching, twining hands was perfect for the suppressed longing of these characters. After a late finish (11pm) Andy and I had a cuppa and chatted (over delighted squeals from my son, who was still awake and excited to have a visitor) about how much better the scene felt with this added frisson.
Saturday 18th:
SHOW DAY! A cruel 9:30am dress rehearsal turned fabulous when I donned my frock, created
by Michael Jackson's designer. It's a skin-tight black dress with a glorious sheer, silk-embellished drape. I love it. I want to steal it. If it goes missing, you know where to look. We ran the show, then ran home to rest.
4pm:
Makeup call at the theatre. I LOVE having my makeup and hair done, because I am particularly untalented in that area. It is a luxury that I appreciate hugely.
5:30pm: Rufus comes to my dressing room to approve my 'look' and make any last minute suggestions. He seems happy. I am intensely relieved. Rufus is a brilliant artist with an astute eye and ear who speaks his mind honestly and encourages the whole team towards the truest realisation of his work. I love this in a person and truly adore him (although I am yet to overcome my awe and speak a coherent sentence in his presence).
7:30pm: Show time! Rufus introduces us; the crowd goes wild for him. We sing. I cry… a lot. This role breaks my heart, revolving around an ageing opera diva (me – ahem!) preparing for her comeback. She is beautiful, broken, proud and vulnerable. Her words echo those I have heard from so many colleagues and would resonate with any passionate singer. Who are you when you can no longer sing? The famous finale Les Feux d'Artifice, where the diva watches fireworks flame and gutter, becomes an analogy for her life, and as I sing the final line: "The fireworks are over… they don't last for long", my voice quavers as tears stream down my face. This role is a gift, one to climb inside and cherish and live as honestly as possible, and it destroys me every time I sing it. I hope I get to live with her again!
This article first appeared in Limelight
To subscribe to Limelight from as little as $16 for 3 issues visit: www.limelightmagazine.com.au