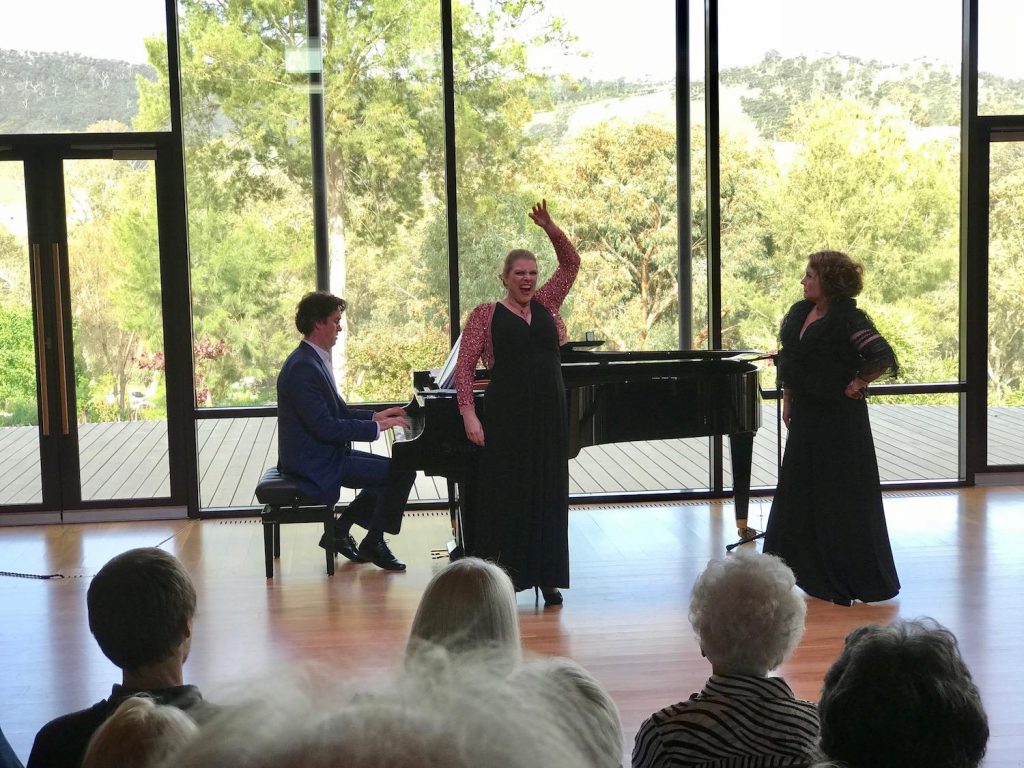 Emma Matthews opened the concert with three pieces,Du bist die Ruhby Schubert, Gretchen am Spinnradealso bySchubert, and then Morgenby Richard Strauss. Having once struggled with Schubert lieder, myself, it was a joy to hear these two sung as superbly as they deserve.
The Letter Duetfrom Mozart'sMarriage of Figarowas the first duet of the evening, and was superbly sung, creating great anticipation for the other duets to come. Matthews and Dark left it in no doubt that they were having the very best of times singing together. Their smiles during the concert, especially in their duets, could have lit up Adelaide.
Then followed two wonderful pieces from Dark, firstly, Träume(dreams), from Fünf Gedichte für eine Frauenstimme (Five Poems for a Female Voice), better known as the Wesendonck Lieder, WWV91 by Richard Wagner, a setting of five poems by Mathilde Wesendonck. Yes, he did write other things than operas, although he was also writing Tristan and Isolde at the same time and labeleled this as a "study" fpor that opera, trying out ideas that he would be using. Next was Allerseelen (All Soul's Day) from Acht Lieder aus Letzte Blätter (Eight Songs from Last Pages), by Richard Strauss.
Two folk songs followed, from Berio, a much overlooked composer, with the first a setting of Black is the Colour (of my true love's hair)and then a lovely Armenian lullaby, Loosin yelav. Dark and Matheson made these difficult pieces sound deceptively easy.
Barcarolle, from Offenbach's Tales of Hoffman, is nothing new to Matthews, who has sung all four soprano roles at one time of another in her extensive career. No surprises that her rendition was something special.
Ah! Non credea mirarti… Ah! Non giunge, from, Bellini's La Sonnambula (The Sleepwalker), allowed Matthews to Raise the Roof with a marvellous rendition of the aria. The audience cheered and applauded wildly.
Dark then changed the pace completely by turning to Handel's opera, Rinaldo, and the aria, Laschia ch'io pianga (let me weep). The contrast worked to great advantage.
To close the first half the duo chose one of the most loved of all duets, Duo des fleurs(The Flower Duet), from Lakmé, by Delibes. It was certainly a case of "leave'em wanting more" but, fortunately, there was much more ahead.
As Dark entered to begin the second half, lightly running a seductive finger across the shoulder of an unsuspecting member of the audience, and throwing a cheeky grin to the rest of us, it was clear that Carmen had arrived, launching into the Habanerafrom Bizet's opera, which was followed, of course, by tumultuous applause.
Matthews turned to Puccini's mighty opera, Tosca, for the aria Vissi d'Arte (I lived for Art), after which, the concert expanded into other genres, allowing the singers to demonstrate their versatility.
They followed these solos with a duet of conflict from Bernstein's West Side Story as Anita admonishes Maria in A Boy Like That, coupled with I Have a Love. They didn't just sing the parts, they played the roles.
Dark gave is Jaqcues Brel's Ne me quitte pas (Do not go away)in the original French, as well as the less trauma-ridden English interpretation, If you go away. I much prefer Brel's version and Dark did it full justice.
Matthew's rose to the challenge of Glitter and be Gay, from Bernstein's Candide, a highly complex piece from a devilishly difficult score.
I have long been a fan of the Hinge and Bracket rendition of Rossini's Cat Duet, and the duo had the audience in stitches with their rendition, filled with the hissing and spitting, and exposed claws, so often lacking in performances of this piece.
Dark sang Can't Help Lovin' That Man of Mine, from the musical Showboat by Jerome Kern and Oscar Hammerstein, and Matthews stayed with the musicals for You'll Never Walk Alone, from Carousel, by Richard Rogers and Hammerstein. Many attempt to sing these songs, and many fail. These two showed how they should be sung, filled with passion coupled with a large degree of poignancy.
That brought us to the end of the advertised programme, but the standing ovation brought forth a couple of encores which were gratefully received. We can only hope that we see these two singers, and their very fine accompanist, back here again soon for another selection of their favourite works.
From: https://www.broadwayworld.com/bwwopera/article/BWW-Review-EMMA-MATTHEWS-JACQUELINE-DARK-AND-TAHU-MATHESON-at-Ukaria-Cultural-Centre-20171031